Parker series 7092 Industrial Air/Water Hose
Parker series 7092 Industrial Air/Water Hose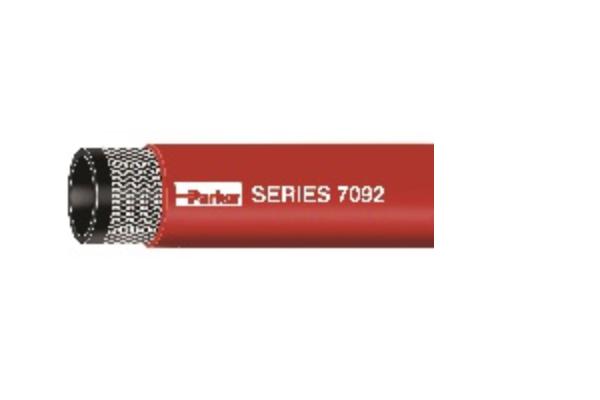 Request a Quote
or call 1-800-321-6488 to request a catalog and custom quote
Overview
Parker's GST II General Purpose Industrial Air & Water Hose provides excellent service across multiple applications. The hose tube is compatible with light oil mists for tool lubrication. The hose cover is available in multiple colors for easy identification, and also resists abrasion and weathering. GST II hose is available in long continuous lengths for efficient inventory management and maximum utility at cramped or hard to reach job sites. The hose is qualified with permanent crimp couplings for a safe and secure connection and is a versatile hose for many common industrial applications.

Markets:
• Agriculture
• Construction
• General Industrial

Features/Benefits:
• Tube: Black EPDM for versatile and economical service to 212°F.
• Reinforcement: Multiple textile plies for strength and kink resistance.
• Cover: Black, blue, green, red or yellow EPDM for abrasion and weathering resistance.
• Couplings: Qualified with steel crimp couplings for a durable, safe and secure connection.

Applications:
- media
• Air
• Mild chemicals
• Water
- usage
• Air compressor/air tool hose, including systems that employ light oil mists for lubrication
• Shop air hose
• Water hose for clean-up/wash down, cooling and spray

Safety/Technical:
• Design Factor: 4:1
• Do not use with oil or refined fuel.