Parker PRE-Made Red Hose Assembly
Parker PRE-Made Red Hose Assembly
GST II Air Hose Factory Assemblies are designed for transfer of air for shop use and to power pneumatic tools to 212°F and 300 psi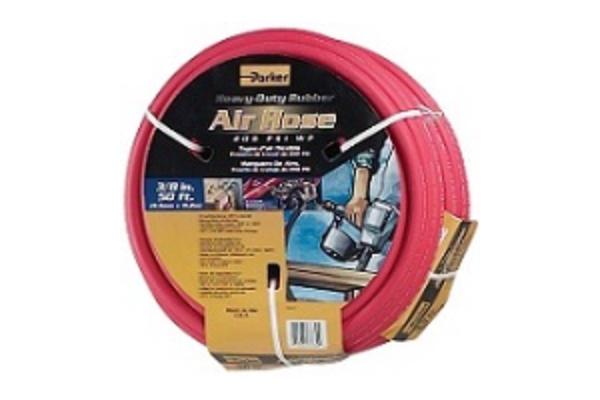 Request a Quote
or call 1-800-321-6488 to request a catalog and custom quote
Overview
Parker's Series 7092GST II Air Hose Factory Assemblies provide excellent service for multiple air hose applications. The hose tube is compatible with light oil mists for tool lubrication. The red cover allows easy identification and resist abrasion and weathering. Series 7092 hose assemblies incorporate lightweight brass crimp couplings for a secure hose/fitting interface. The packaging includes an attractive Parker center disc for retail/store traffic and point of purchase displays.

Markets:
• General Industrial

Features/Benefits:
• Tube: Black EPDM for versatile and economical service to 212°F.
• Reinforcement: Multiple textile plies for strength and kink resistance.
• Cover: Black or red EPDM for abrasion and weathering resistance.
• Couplings: Brass male rigid NPT thread x male rigid NPT thread for quick and easy connections.

Applications: -media • Air -usage • Air compressors • Pneumatic tools, including those subject to light oil mists for lubrication.
• Shop service

Safety/Technical:
• Design Factor: 4:1
• Do not use with oil or refined fuel.

Warnings:
• Couplings attached with bands or clamps may reduce the working pressure of the hose assembly to less than the maximum rated working pressure of the hose. Refer to NAHAD Industrial Hose Assembly Guidelines.