Parker Series 7084 Twinhammer ™ Air/Water Hose Assemblies
Parker Series 7084 Twinhammer ™ Air/Water Hose Assemblies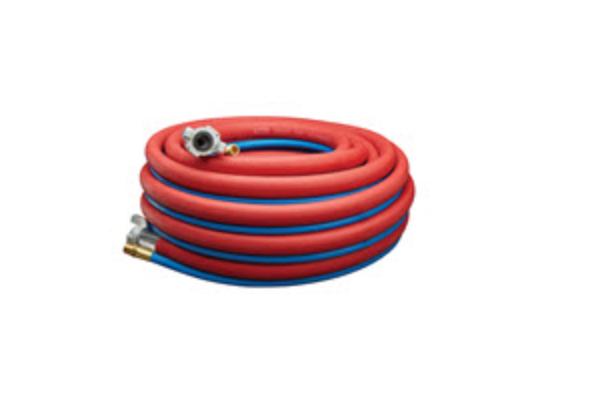 Request a Quote
or call 1-800-321-6488 to request a catalog and custom quote
Overview
Twinhammer™ Dual Air/Water Jackhammer Hose Factory Assemblies
- May be used as part of an OSHA-compliant silica dust suppression system

Parker Series 7084 Twinhammer Hose is the first factory-assembled dual hose system that delivers both air and water in a single, unitized configuration for dust suppression in jackhammer/breaker tool applications, as required by new OSHA Respirable Crystalline Silica (RCS) rquirements.

The new twin line hose system concurrently:
• transfers air to power heavy duty pneumatic tools
• transfers water to suppress silica dust produced by tool operation
• helps create a safer and more efficient work environment

Twinhammer hose assemblies feature durable, abrasion resistant and chemically bonded lines that provide easy handling while eliminating intrusive clamps, straps, tape or zip ties. The assemblies incorporate crimped-on universal end styles for quick connection/disconnection to the air system, and rust resistant crimped-on brass male NPT couplings for easy attachment to the water system.

NOTE: For quick and convenient installation of Parker Twinhammer hose, use the Twinhammer Hose Spray Kit (Part Number 7084JHT75-KIT).

To learn more about OSHA's Final Rule to Protect Workers from Exposure to Respirable Crystalline Silica, visit http://www.osha.gov/silica/.